Autonomous Navigation
Robot Route Mapping and Positioning
Cleaning robots, service robots, autonomous guided vehicle and other automated movable devices all rely heavily on tracking sensors for their route mapping and positioning processes. With the presence of quality route mapping sensors that continuously return accurate path tracking and planning results, the performance of the devices can be significantly enhanced.

PixArt's route mapping sensor is implemented with the latest algorithm to overcome the misreading error that is highly likely to happen among varied floors surfaces. Regardless of what the tracking surface is made from, our advanced sensor chip is capable of returning accurate movement data from various surfaces such as glossy tiles, granite, wood floor, and carpets.

PixArt's Optical Tracking Sensor (OTS) product series offers products with a wide working range to cover height changes of +/-10mm and with speed motion detection of up to 45ips. As for data output, the sensor directly provides 2D displacement information (auto x-and y-axis feedback) without the need for additional MCU or further implementation of the displacement algorithm.

PixArt is your answer to creating a robot with both precise positioning and efficient path planning capabilities. If you are interested in the applications, please visit the product links below, or browse our OTS product pages for more information.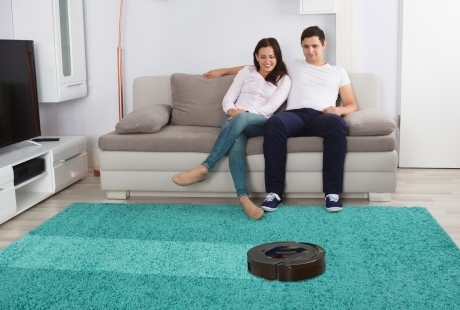 **DISCLAIMER** Images on this page are legitimately downloaded from image supply websites and thereafter posted on our company website. Nothing herein shall be, expressed or implied, considered that the articles displayed on these images are made by our company; nothing herein shall be, expressed or implied, considered that the entities making these articles displayed on these images are our company's customers or have any business relationship with our company.