Message From The Chairman
Message From The Chairman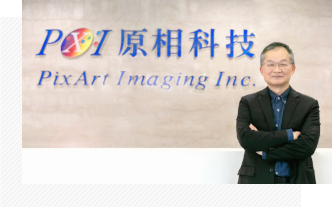 "We endeavor to provide worldwide users with an enjoyable and convenient life experience."
The global community has grappled with the unprecedented challenges of the Covid-19 pandemic in recent years. Concurrently, critical issues such as net-zero carbon emissions, climate change, and global warming have reached boiling point on a global scale. Governments and businesses worldwide have taken proactive steps to mitigate climate action. As a forward-thinking high-tech company, PixArt Imaging Inc. recognizes the importance of aligning with international trends and carrying out our role of a responsible corporate citizen. We are fully committed to integrating sustainability into our core business strategies while adhering to the highest standards of corporate governance, ethical conduct, and employee wellbeing. Through these efforts, we aim to foster a secure, comfortable, and inclusive work environment while actively engaging in environmental preservation and social empowerment. Our ultimate vision is to contribute to the greater social good and generate a sustainable future for all.
In 2022, the Corporate Sustainability Committee diligently pursued its key objectives, successfully attaining the RBA VAP certification. Furthermore, we proactively addressed stakeholder concerns pertaining to the United Nations' Sustainable Development Goals (UN SDGs). Through collaborative efforts across various sectors, we collectively prioritized material ESG topics, fostering an environment of corporate social responsibility. We remain firm in our commitment to good corporate governance and adhere to laws and regulations, mandating all colleagues to uphold the principles of integrity and ethical conduct. Emphasizing the importance of director independence and diversity, we consistently bolster our board's and other committees' efficacy. Our endeavors in social engagement also encompass environmental stewardship and support for vulnerable communities. Leveraging the combined resources of our organization, alongside voluntary contributions from suppliers and colleagues, we actively strive to make a tangible impact. Noteworthy initiatives include sponsoring nutritious breakfast programs for children residing in remote areas, fulfilling the heartfelt wishes of children during the festive seasons, and spreading love and encouragement throughout Christmas. We aim to foster prosperity and welfare in the local and broader community by reaching out with each of our best efforts. For the environmental sustainability initiatives, we have engaged employees and their families in beach cleaning activities for five consecutive years, fostering environmental awareness and fortifying our determination to protect our homeland. We additionally and consistently allocate resources to greenhouse gas reduction and energy-saving programs, thereby minimizing the carbon footprint of our production processes.
In light of the ongoing global pandemic, our management team remains steadfast in our dedication to safeguarding the health and safety of our valued employees. We recognize the pressing urgency of addressing climate change, which demands immediate attention and concerted efforts. Guided by our strong resolve, we are committed to undertaking practical and responsible measures that contribute significantly to the sustainable development of our planet. Embodied in our corporate ethos is our unwavering belief in sharing the fruits of our business achievements with our esteemed shareholders and dedicated employees while striving to give back to society to our best ability. By upholding these principles, we are devoted to creating shared value for all stakeholders and positioning ourselves as a catalyst for positive social advancement.

Sen-Huang Huang
Chairman of PixArt Imaging Inc.